ONE LIGHT HEALING TOUCH
ONE LIGHT HEALING TOUCH was founded in 1996, by Ron Lavin, MA, a renowned healer and gifted psychic. Our Schools are located in New York and Connecticut, and throughout Germany. Ron has participated in five landmark studies with the National Institutes of Health (NIH) and has been featured in the media internationally.
ONE LIGHT HEALING TOUCH is an International Energy Healing and Mystery School, offering training in a profoundly effective range of Energy Healing skills. Our school offerings include a Basic, Masters and Teacher-Training level Programs. The Basic is an 18-day School, presented over six months and teaches over 50 Shamanic, Holistic, Spiritual and Esoteric Self-Healing Practices and 33 advanced Energy Healing Techniques for healing oneself and others. These include Archangelic, Supreme Being, White Light, Heart, Male/Female, Past-life, Long Distance, Sacred Initiations, and much more. Masters students learn 22 "Master-Healer" Energy Techniques and Practices.
The Basic Training includes a range of unique, transformational techniques that help us to release long-held programming and subconscious energy patterns that allow for profound change to occur. The Basic training increases our: health, awareness, joy, creativity, intuition and other psychic abilities, and it also deepens our spiritual connection, and helps us to fulfill our Purpose for Being. Our School honors all spiritual traditions, serves the novice and advanced practitioner alike, and awards a Certificate in Energy Healing. (See Testimonials and Healing Stories) READ MORE.
ENERGY HEALING PRACTITIONERS: ONE LIGHT HEALING TOUCH is a profoundly effective, advanced Energy Healing Therapy and is useful for treating a range of chronic and acute conditions.  See ONE LIGHT HEALING TOUCH Therapy  for details. For In-Person and Distance Healing Sessions: See our Referral Page for a List of our Certified Energy Healing Practitioners.

Contact ONE LIGHT HEALING TOUCH
By phone:
(845) 878–5165
By email:
Ronlavinny@gmail.com
www.OLHT1.com
By mail:
Ron Lavin, MA
International Director
184 Todd Hill Rd.
Lagrangeville, NY 12540
Contact Us for Information Regarding:
Training Schools, Tailored Workshops and Talks in Your Area!
In-Person or Distance Healing Sessions. See "Therapy" for details.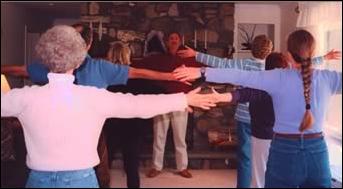 Six Position Movement Meditation
See Products: ONE LIGHT HEALING TOUCH Journeys.
Join Ron Lavin in the self-healing practice of Running Energy™.