ABOUT PENNY PRICE LAVIN
Throughout her life, Penny has been dedicated to bringing light, understanding and healing through energy medicine and through the mass media.
ONE LIGHT HEALING TOUCH™ –  Co-Director, Instructor and Practitioner  
Penny is the Co-Director of One Light Healing Touch and has been a Practitioner since 2000. She became a Certified Instructor in 2006, where she deeply enjoys teaching the Basic Training and helping students open, learn, heal and grow. Penny is a Master Instructor, where she teaches many of the courses in One Light Healing Touch.  Penny has studied energy medicine, mental-imagery, mind-body techniques, Shamanic teachings and practices, REIKI and spiritual studies throughout her life, and has presented One Light Healing Touch at numerous NY Centers and given countless print, radio and podcast interviews. Penny was an intuitive and spiritual child and when she was 8, she had a numinous Spiritual experience which opened her to her purpose for being. When she was 11, she spontaneously began using color healing where she achieved some very positive results.  She has practiced energy medicine since 1985.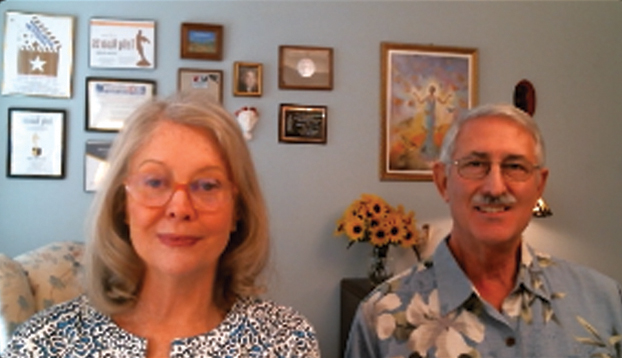 Penny & Ron, Via Zoom, 2022
TESTIMONIALS
" I took the Basic and Masters Trainings, via Zoom, with Penny and Ron Lavin and they are wonderful instructors.  I really feel that it is a life-changing course and I massively recommend it. I loved connecting with higher spiritual beings, becoming more psychic, connecting with other like-minded people, and learning a range of exceptional healing techniques to help heal myself and others."- Michelle W. Dec. 2022, London
"I took the Zoom Basic training with Penny Lavin and found that Zoom was an ideal platform for learning One Light Healing Touch energy healing. Penny is an excellent instructor and she made the program as interactive and fun as a physical classroom can be. I enjoyed the structure, the many practices and the tools I learned in the School. It is a remarkable and life-changing course." – Sonia N. Aug. 2020, Canada.
"I repeated the Zoom Basic Training and it is an authentic, heart-opening and life-changing program! Penny is an outstanding instructor. Her knowledge is comprehensive and she has a high-level of care and empathy for the students." – Ana D. Jan. 2021, London.
"I attended the Basic Training with Penny in LA. She is a master Instructor, and her intention catapults the energy healings, enabling the students to become more proficient healers!   I am so grateful for the teachings and experiences that I received during the Training. Penny created a beautiful and nurturing safe space, which allowed me to change and grow in every way.  How magnificent! I found my purpose and to be practicing as an energy healer has been the most precious gift!" – Julie C. March, 2018, Los Angeles   (In-person)
"Penny is a skilled healer and wonderful Instructor. She is psychic, wise, and has a charming sense of humor." – Lena M., 2018. Los Angeles  (In-person)
"Penny has profound soul power. I sensed she could feel, see and understand many things about me, even those that I am not yet aware of."- A. J., 2018. (In-person)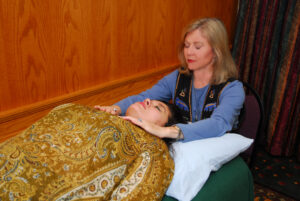 PENNY PRICE LAVIN'S MEDIA WORK 
Throughout her media career Penny has focused her work on producing programming in the fields of body, mind & spirit, human potential, health, energy medicine, the environment, and issues that could help contribute to the greater good.
Penny's latest documentary is her Telly-winning documentary, THE HEALING FIELD: Exploring Energy and Consciousness, which features renowned experts, including Ron Lavin, Bruce Lipton and many more.  It was seen PBS and it can be streamed on GAIA.com, in English, German, French and Spanish. (Gaia.com is one of the largest, holistic digital platforms in the world.)  Penny's documentary is also available at Beyond Words and Amazon (Via Streaming and as a DVD)   (See Products)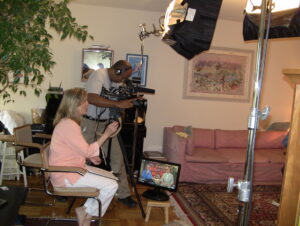 Penny's book based on the documentary is called, THE HEALING FIELD: Exceptional Healing Practices To Change Your Life.  It's been awarded ***** US Review of Books, (2021) and Book Excellence Awards, (2021).  It is available on Amazon in print and ebook formats.  (See Products)
Penny has worked in media as a producer, director, writer for 30+ years where she is known as Penny Price and she is the recipient of MAGGIE, EMMY, CHRIS and TELLY Awards.  Some of the national programs where she worked include: The Mike Douglas Show, Good Morning America, NBC Magazine, Geraldo, and Kids Are People Too.
In 1995 Penny launched Penny Price Media, dedicated to producing uplifting and empowering programming. Some of her award-winning programs include: SHINING SOUL – The Life and Legacy of Helen Keller;  which won 1st prize at the Houston Film Festival, and SPLENDORS OF THE SPIRIT: Swedenborg's Quest for Insight – US Film & Video Festival, Silver Award – and both were seen on PBS and can be streamed on GAIA.com.  Many of her programs received ***Stars by the Video Librarian, including: HEALING EXERCISES FOR BODY, MIND & SPIRIT, and A COURSE IN MIRACLES with Marianne Williamson.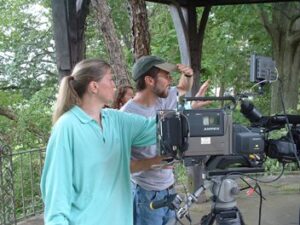 MEDIA TESTIMONIALS
"Great work Penny on your documentary and book, THE HEALING FIELD!  Your strong positive Yang Q is like the wind in the sails driving you forward in this masterful work, while your calm professionalism is evidence of your enduring nurturing Yin Qi."- Jack Lim, Qigong Grandmaster
"You are a most enlightened producer in this and related fields, and your work is so formative to helping the new paradigm emerge.  It was wonderful working with you on the documentary, The Healing Field." – Beverly Rubik, Ph.D., Institute of Frontier Science

"I saw on a daily basis her boundless energy and amazing creativity. Her ability to organize all her knowledge and ideas into one coherent program is legendary." — Steve North, Sr. Producer, Geraldo & CNBC
"My long association with Penny Price is one of my fondest memories: She's among the best and brightest of all the producers I've worked with over the past three decades. She is a rare combination of intelligence, talent, and compassion." — Geraldo Rivera
"Penny is one of best producers in television. She helped me and my guests communicate with maximum effectiveness, and she structured the programs with style and expertise, and she engaged the audience in both heart and mind." — Barbara DeAngelis, Ph.D

"Thank you Penny. Your energy, positive attitude, experience, and professionalism really created a fantastic atmosphere to work in." — Anthony Carillo, yoga instructor, IRON YOGA DVD. 
"We watched the documentary SHINING SOUL. Filmmaker Penny Price has created a monumental feat. The whole experience of watching it is truly something from another world, an Everest experience for the soul." — Shining Soul screening attendee