BASIC TRAINING: 14 to 18-Day Training
This 100-hour, 18-day training, is typically presented in six (three-day) sessions over six months; or it can be scheduled in three (six-day) sessions, or it can be offered as two (seven-day) sessions, over several months.  It offers invaluable tools for everyone in the holistic arena and all those seeking personal growth and self-healing. We take a comprehensive, multi-leveled, heart-centered and grounded approach towards health and healing. We work with over 33 advanced Esoteric, Shamanic, Holistic, energetic and hands-on healing techniques to heal ourselves and others, to Sacred Initiations into Higher states of consciousness; and over 50 self-healing Practices. See the syllabus below for more details.
Graduates receive a Certificate of Completion
Includes 110 page manual and six ONE LIGHT HEALING TOUCH Journey's CDs/MP3s. This Course has NCBTMB approval pending for 50 CEs for Massage Therapists. Contact your Instructor about your CE needs. Check with your state massage board for their specific requirements. (CE's not available for those licensed in New York)
Tuition: $3,200 – $3,600. + Lunch.  Three discounts available: $50 off for each: Early registration, and/or A Day of Healing; and $100 off for payment in full prior to the school.
"I so enjoyed taking the Basic training with Penny and Ron Lavin. When I returned home to my therapeutic yoga private-practice, I found it was so easy to seamlessly incorporate the One Light Healing Touch practices with my work. My clients are loving it!" – Julia B., Jan. 2018
"I am so grateful for the teachings and experiences that I received during the Basic Training. Penny is a Master-Instructor and she created a beautiful and nurturing safe space, which allowed me to change and grow in every way.  How magnificent! I found my purpose and to be practicing as an energy healer has been the most precious gift!" – Julie C. , March, 2018
"I love it! I have had great success with my clients and weaving in the new things I have learned from the OLHT Basic Training with Penny and Ron Lavin." – Fe M., Jan. 2018
"Words can't express the depth of my gratitude for the Basic Training with Penny and Ron Lavin. The school enabled my soul's journey to truly heal and move forward."- Pamela Y., Nov. 2016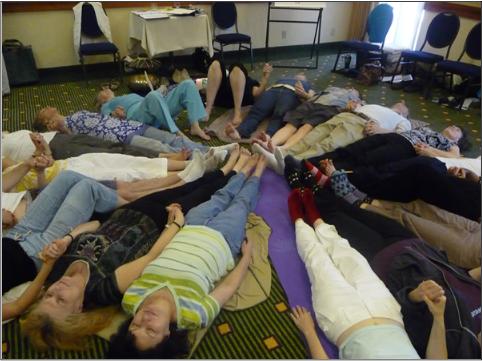 The Training Includes:
1. TEACHINGS ON THE NATURE OF ENERGY
A thorough presentation of the principles, laws and sacred uses of energy creates a solid foundation for training as a healer.
2. PREPARING AND CLEANSING THE HEALER
An exploration of four areas of preparation essential for all healing modalities.
– Grounding: Many of our spiritual issues are caused by dissociation from the body. Proper grounding allows healers to stay present for themselves and for their clients. Learning to heal ourselves while staying within the physical body is essential to our spiritual evolution.
– Clearing the Field: Cleansing and securing our auric field is essential in avoiding the imbalances caused by holding onto the energy of clients and other people.
– Eliminating Obsolete Programming: Learning to effectively release our old programming and free ourselves of our pasts is key to all personal growth and especially to healing work.
– Connecting to Source: Accessing Source teaches us how to live, how to know our purpose for being, and how to find our place in the world. This is a vital part of the process of helping someone to heal.
3. TOOLS FOR SELF-HEALING
This course delivers a full range of self-healing practices, including: Meditation, Visualization, Sound-work, Breath-work, Movement and Sacred Ceremony
4. TOOLS FOR HEALING OTHERS
We will learn a myriad of sacred and effective, spiritual, holistic and hands-on healing methods, including: Radiant, Magnetic, Color, Chakra, Clairvoyant, Heart, Higher-self, Male & Female, Christ & Mary Consciousness, Archangelic, Ten Long- distance Healing Modalities, Initiations into White Light, Energy Awareness Training and much more.
OLHT BASIC TRAINING SYLLABUS (1st Year)
Fifty Self–Healing Practices: Meditation, Visualization, Sound work, Breath work, Movement and Sacred Ceremony including: Vipassana, Archangel, Higher-self, and Six Additional Meditations, A range of Shamanic and PranaYama Breath Techniques, Ten Healing Chants, Jopa, Whirling, Cleansing The Psychic Senses, Chakra Totem Animals, Shamanic Journeying, Past-Life Regressions, and more.
The Nine Point Protocol: A unique teaching on how to work with another soul in an ethical, elegant, healing and empowering manner.
Thirty–Three Advanced Healing Techniques: Archangelic, Chakra, Chelation, Christ & Mary, Color, Heart, Magnetic, Past–Life, Radiant, Spiral, Time–Line, and White Light Healing; Basic & Advanced Scanning, Energy Awareness Technique (EAT), Self–Energy Awareness Training, Higher–Self Work, Male and Female Balancing and Healing, Release Work, Clearing Entities and Manifestations, Cord Cutting, Nine Essential Distance Healing Techniques, White Light, Chiron and Archangelic Initiations, Building a Column of Light, The Healing Stage, Alchemical Marriage, and more.
Lectures and Discussion: The Nature of Energy, The Chakra System, The Aura, Matching Pictures, Mirroring, Understanding Healing, Balancing the Male & Female Energy Systems, Archangelic Teachings, The Course Questions.