WHAT MAKES ONE LIGHT HEALING TOUCH UNIQUE?
We are truly living in times of great change. It's often challenging to stay clear, balanced and grounded. ONE LIGHT HEALING TOUCH is one of the most beautiful and all-encompassing ways to release programming, stress and chronic-health issues, and open your heart, creativity and intuition and live in a deeply present, grounded and balanced manner. ONE LIGHT HEALING TOUCH is committed to the evolution of humanity.
A number of simple energy healing techniques teach a series of hand-placement methods while radiating healing energy into the client. ONE LIGHT HEALING TOUCH is unique with its comprehensive depth of Self-Healing Practices and Energy Healing Techniques: 33 advanced Energy Healing Techniques are taught in the Basic Training, and an additional 22 Healing Techniques are taught in the Masters Training. Our Master's Graduates learn how to give "Master-Healer" Energy Healings.
In addition, the program includes the following Unique Tools and Teachings:
– The training honors all spiritual traditions and serves the novice and advanced practitioner alike.
– The unique ONE LIGHT HEALING TOUCH Nine-Point Protocol, insuring that our healing-work is done in a safe and ethical manner.
– Teaching how to connect to one's Higher Self and to the client's Higher Self for clear guidance during the healing process.
– Teaching how to open to our clairvoyance and intuition, to receive our most authentic spiritual guidance.
– Teaching the unique material in the Basic Training, which helps release old emotional issues including traumas, programming and limiting sabotaging patterns, from deep subconscious levels, so participant's experience deep, transformational growth and change.
– A range of heart-healing techniques, essential to one's growth to facilitate opening to spirit. The heart is the gateway to the soul and must be cleansed and open to allow for all stages of our spiritual growth.
– Teaching many spiritual practices to deepen our connection with Spirit, and to unlock and reveal our purpose for being in this lifetime.
– Graduates who give healing sessions learn a variety of self-healing practices to offer their clients to do between sessions.
"MASTER HEALER" Energy Research
Dr. Russell Targ tested Ron Lavin in the early 1990's and found him to have "Master Healer" energy qualities. Dr. Targ used a machine measuring magnetic energy and Lavin's healing energy registered about .8 hertz, and "the strength and quality of that energy was robust." Ron Lavin was then invited to join Dr. Elizabeth Targ's study in which "Master Healers" worked on AIDs patients. The results were highly positive and it was considered a "landmark" energy healing study. See Study #1 on the website.
Gary Schwartz, a world-renowned researcher, did a study of "Masters Healer's" and some popular simple energy healing methods. He found that "Master Healers" averaged about 1/3 more magnetic-field changes per minute, than the other healers.
Footnote: M. Conner, G. Schwartz, et al. – Research paper presented at the Toward a Science of Consciousness ­– Tucson, Ariz., April 2006.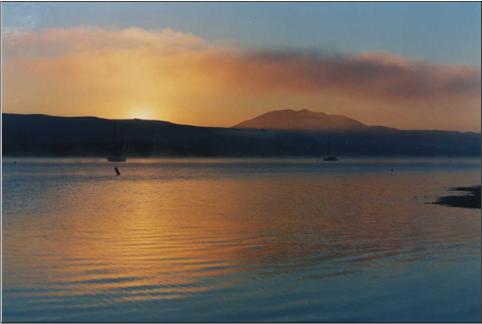 Morning Light over Inverness, CA – Robin Lavin ©2010