AUDIO SERIES, DVDS and The Healing Field book
ONE LIGHT HEALING TOUCH JOURNEYS – Audio Series. HEALING MEDITATIONS, CHANTS AND EXERCISES with Ron Lavin, M.A.  Ron Lavin, MA, has created a powerful audio series for self-healing to release stress and blockages, and help bring us harmony, health and spiritual alignment. The practices are from shamanistic, holistic and esoteric traditions, as well as Ron's inner guidance. The series helps serve to strengthen one's personal spiritual healing practices. Available as CDs & MP3s. This audio series, is provided to our OLHT Students, and #1 &#3 are available to the public.
Shipping Products: Products will be mailed within 3 days via Media Mail.  (Shipping is $3 for 1 item. Standard media mail rates apply for more items). For International shipping, Penny will send a paypal invoice for the shipping fees after you order, so you can submit payment,
MP3's Orders:  pennylavin@gmail.com will email buyers a MP3 ZIP folder, within 24 hours. If you don't hear from Penny, please contact her.  The ZIP folder FIRST MUST BE DOWNLOADED TO YOUR COMPUTER and not your phone.
You must use CHROME, not Safari browser for ordering and credit card orders.
All Products produced by Penny Price Media: Penny Price Lavin
184 Todd Hill Rd. Lagrangeville, NY 12540.  For questions, please contact: pennylavin@gmail.com. Thank you.
---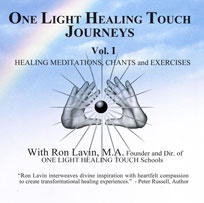 F1. ONE LIGHT HEALING TOUCH JOURNEYS  – Vol. 1    72 min.
SIX POSITION MEDITATION & MOVEMENT™ – An essential daily practice that awakens and aligns the six positions of human existence, bringing us into a cleansed, grounded and joyous awareness. Can be done seated or standing. This is an active movement/visualization/meditation and is an excellent way to start the day.
RUNNING ENERGY™ – A powerful eight minute daily practice for coming into present time awareness, clearing foreign energy and activating one's healing energy. This is done seated with eyes closed and can be done whenever needed and at the close of your workday.
THE NOM – A powerful clearing and balancing chant that connects us to the four levels of being, followed by a visualization.
THE NIYEE – A deep and profound Native American Release Chant.
Item Name: ONE LIGHT HEALING TOUCH JOURNEY CD- VOL 1
Item Number: F1 – CD
Price: $16.00
Item Name: ONE LIGHT HEALING TOUCH JOURNEY MP3 – VOL 1
Item Number: F1 – MP3  (You will receive an email from pennylavin@gmail.com with a MP3 zip folder within 24 hours)
Price: $15.00
---
F3. ONE LIGHT HEALING TOUCH JOURNEYS – Vol. 3     75 min.
LECTURE: MALE/ FEMALE ENERGY – Learn how our male and female imbalances affect us: how to identify imbalance; how to heal ourselves; the effect of parents; how our children stay connected to us energetically; what to do when we're imbalanced.
MALE/FEMALE GUIDED MEDITATION – Experience an empowering, guided mediation to help clear and heal the imbalances in our male and female energy patterns. This work is key to the emotional and mental health of all of our relationships and to our society. As we heal our inner world, so it is reflected in our outer reality.
Item Name: ONE LIGHT HEALING TOUCH JOURNEY CD – VOL 3
Item Number: F3 – CD
Price: $16.00
---
---
---